Astro-Smart's Astro-Cube Dew Annihilator. Control Dew Removal Capability for any telescope.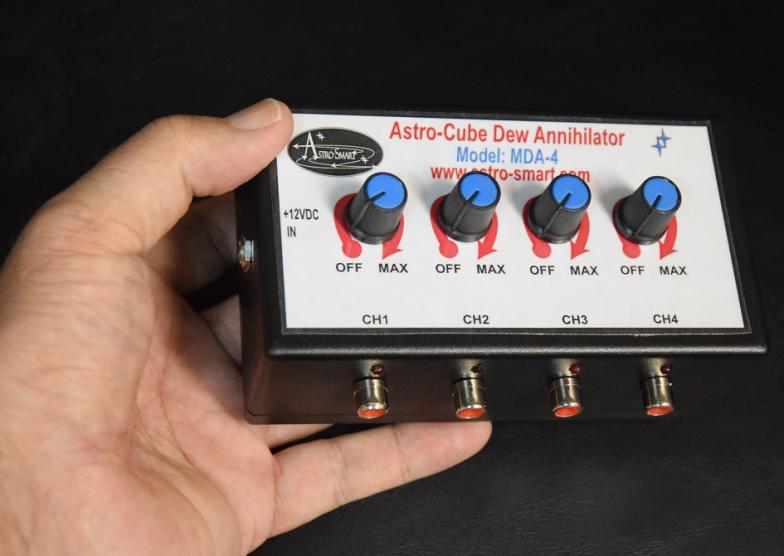 Typical Configuration for the MDA-4 is shown below on a ritchey-chretien but can be used with any reflector, refractor, newtonian or schmidt-cassegrain telescope.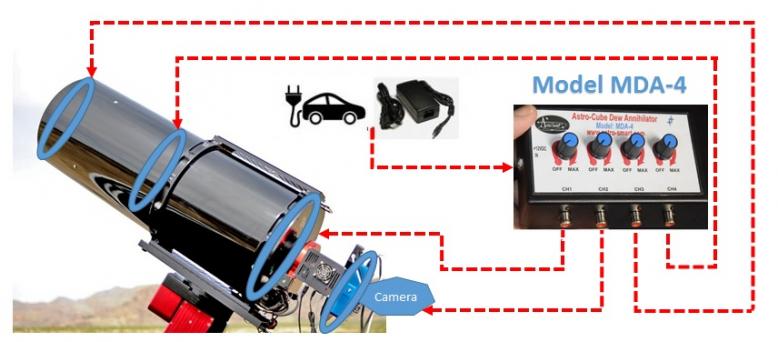 The MDA-4 can be setup with your telescope for troublefree operation controlled manually by the user supplied rotary dial.

The Astro-Cube Dew Annihilator (Model:MDA-4) is designed for Astronomers and Astrophotography's who want a low cost, simple design, yet powerfuldew heater controller.The Astro-Cub dew Annihilator can be used with Astro-Smart's RCA jack type dew straps or compatible Astro-Smart's RCA type dew straps and compatible with other straps such as Astro-Zap and Kendrick.
The Astro-Cube Dew Annihilator (Model: MDA-4) is designed to be used with any make or model of telescope. Whether you have a refractor, newtonian, schmidt-cassegrain, or a ritchey-chretien, the MDA-4 will solve your dew problems while informing you every step of the way.

The Astro-Cube Dew Annihilator (Model: MDA-4) systems incorporates four independently controlled heater port channels capability using four rotary dials with four PWM LED indicators for each channel. The Astro-Cube Dew Annihilator (Model: MDA-4) is powered by a 12VDC input from car adapter or AC/DC power supply available at Astro-Smart which can drive upto 20 Amps total or 5 amps per individual channel. For instance, one channel CH1 heater may be used for the main imaging telescopes secondary corrector plate for dew control while CH2 heater can be used for the primary mirror, another mounted imaging scope, guider or finder scope or your eyepieces. In the following picture you can see MDA-4 system with 4 individually controllerd heat channels using rotary dials with PWM LED Intensity Indicators . For more information on operation of this product see the user manual links on this page.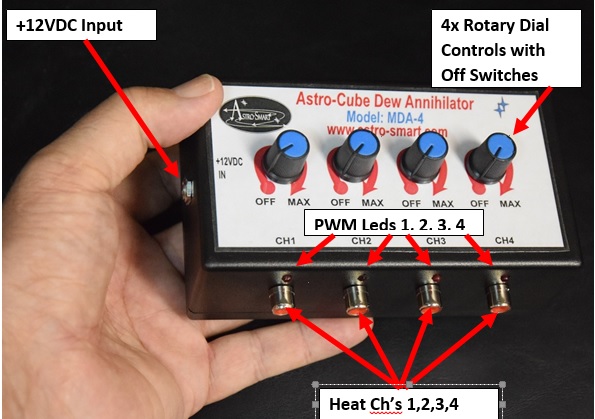 The Astro-Smart Astro-Cube Dew Annihilator (Model
MDA-4

is designed to be user friendly, serviceable, elegant and reliable and include the following features shown below:
1.

Worry Free Warranty Program For Life Of Product Sale.

2.

Full Manually Operated Rotary Dial Dew Control Solution.

3.

4 Independent Output Port Heat Channels User Control Capable of 120 Watts(12V, 20 Amps) or 5 Amps per Channel. Works withAny RCA type heat strap....RCA type dew strap such as Astro-Smart, Astro-Zap and Kendrick, etc.

4.

Variable Rotational Dial Power Control PWM Duty Cycle 0-100% @ 50 KHz Power Intensity.

5.

4 PWM LED Flash Indicators Per Channel Heat Output Port. Power LED Indicator


6.

High quality design employs multi-layer PCB form factor and only the best quality components

with conformal coatings for outdoor use.

7.

Void of RFI(Radio Frequency Interference) protected to enhance Astro-Imaging .

8.

Dimensions (5.2" Long x 3" Wide x 1.9" High.)

9.

Price point set below development cost for such a system while providing more features.
[Order Now!]
The Computerized Dew Annihilator
for any telescope!
The MDA-4 package contents are shown below: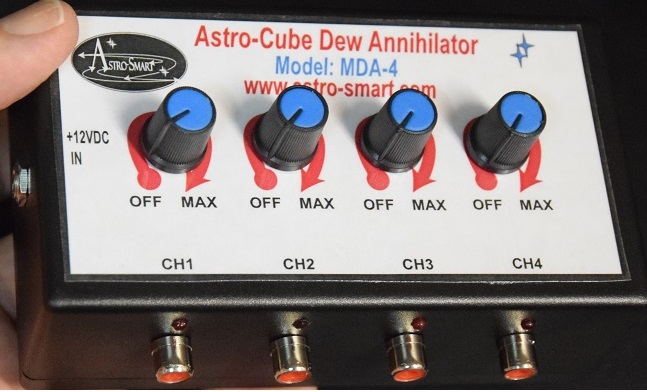 1. MDA-4 Dew Controller

2. One Car Cigarette Power Adapter With On/OFF Switch Fused. (Note: Pictures above don't show this accessory but it is included)
3. One CD with user manual, Videos, Tutorials and Astro-Smart Sales Brochures.
Optional Accessories:

Another convenient accessory that Astro-Smart offers for your MDA-4 is a right angle heater connector (RAHC-DM).This allows your heater to be connected to the MDA-4 at a right angle. This may be convenient for you to alleviate any bending that you have of your heater connector and wire.


Another convenient accessory for your MDA-4 that Astro-Smart offers is a 12 VDC car adapter for operating your dew heating needs with your telescope from your car rated at 10Amp 12 VDC. (PC12V10AMP-D).This comes with your MDA-4 family controller. Spares are availble if needed.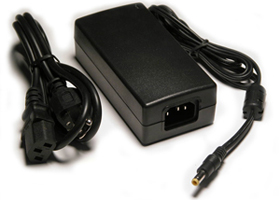 Another convenient accessory for your MDA-4 that Astro-Smart offers is Three versions of power supplies based on your dew heating needs chosing between 6, 8 or 10Amp // 12 VDC supplies(PS12VXAMP-D).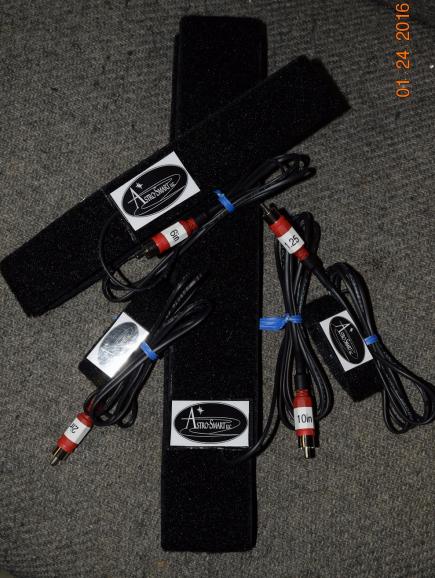 Another product Astro-Smart offers is our Premium Dew Heater Straps.
Astro-Smart is proud to announce the offering of our Premium Dew Controller straps that can be used with the Astro-Smart Dew Controller products and compatible with other vendor dew controllers with RCA jack input to control temperature of your telescope optics, cameras, camera lens, telescope eyppieces and senstive electronics.

The materials used for these Premium Dew Straps include Industrial Velcro, High Qualtiy Insulating Material to project heat toward the optics and away from the atmosphere, 5 foot power cord with male RCA connector and Power Extension Cable Current rating of 10 Amps.


The specifications of our various Premium Dew Straps, sizes and pricing are provided by clicking on this "LINK" provided to our Dew Heater Straps Product Page.Please note that when purchasing the Astro-Smart MDA-4, you can also use the heater straps you may already have.
QUESTIONS:
| | |
| --- | --- |
| Email Us At Addresses Below: | |